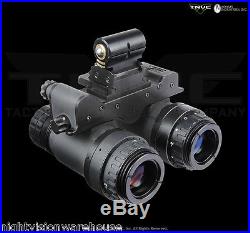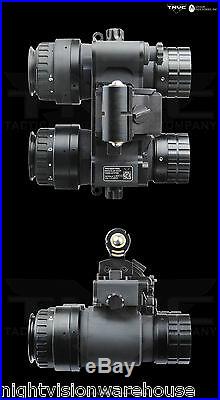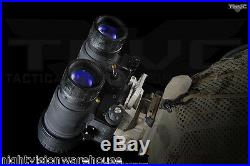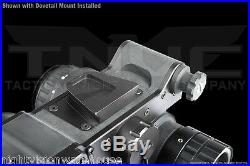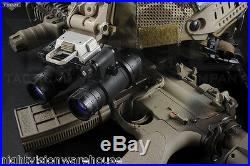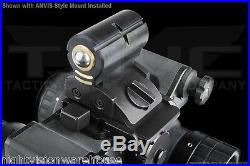 L3 Sentinel BNVS Binocular ANVIS Goggle Night Vision System L-3 OMNI VIII Black. The TNV/Sentinel BNVS is a unique night vision system, adaptable to the needs of Warfighters, Law Enforcement Professionals, and Civilian Sportsmen alike.
Designed in direct response to the ground deployment of ANVIS Aviation Goggles (and their subsequent breakage due to not being rugged enough for that environment), the TNV/Sentinel provides the operator with a ton of useful features not found in other systems. The Sentinel program was developed by Adams Industries as a way to provide ground forces with an up-armored version of their coveted ANVIS goggles. Special Operations Forces have long used ANVIS goggles on the ground because of the superior performance of the optics and tubes compared to conventional systems.
But, aviation goggles were never designed to be deployed outside the protection of a cockpit and their more fragile nature has been a bane to SOF units. The Sentinel program was initiated as a way to provide the features desired by SOF operators in a much more rugged package. It features an ultra-rugged machined composite housing, bolstered by aluminum front and rear plates on the bridge. Like the ANVIS systems, Sentinels utilize worm drive interpupillary adjustment (however, there is no creaking and rattling as found in the aviation goggles).
On top of that, the Sentinel is submersible to 66´ which should put a smile on the face of anyone who has ever tried to use ANVIS goggles in the rain or snow. Perhaps one of the most unique aspects of the Sentinel is the user-swappable mount interface. The Sentinel can be field-adapted to either standard dovetail mounts or ANVIS-Style ball detent mounts.

When used in the standard dovetail configuration, the Sentinel is powered by a single on-board CR123 lithium battery. It will plug into all standard dovetail helmet mounts such as the Wilcox L4 G24 and the Norotos INVG.
Switching interfaces is fast and simple; requiring the removal of four screws before replacing the dovetail with the ball detent. The ball detent adapter interfaces with standard ANVIS goggle mounts such as the popular Adams Industries Surface ANVIS Mount or the legacy USGI ANVIS mount. Power is supplied by a remote battery pack on the back of the helmet and allows for longer run times.
Controls are similar to PVS-14 goggles with a simple twist on/off power knob that also activates the onboard infrared illuminators. We build our TNV/Sentinel Goggles with L-3 Infinity OMNI VIII Image Intensifier Tubes.
These Gen3 tubes offer unparalleled clarity, resolution, low light performance, and durability. We also offer our TNV/Sentinel in our own FDE/Tan proprietary finish as seen in our popular TNV/PVS-14´s.
The color is professionally applied matte automotive paint and clear-coated to provide a durable finish that will stand up to field abuse. Export of Night Vision Equipment or related accessories (such as manuals) is strictly regulated by the US Department of State in accordance with the guidelines of the International Traffic in Arms Regulations (ITAR). Ignorance of these regulations will not hold up in court. By purchasing night vision equipment from TNVC, you attest that you will not attempt to export or carry this night vision equipment outside the borders of the United States.
Also, it illegal to allow a non-US Citizen to look through US Gen3 Night Vision Devices, even on US soil. Again, this is a crime punishable by fines and prison sentences.
4.5´´(L) x 4.7´´(W) x 2.9´´(H) Dovetail Installed, 4.5´´(L) x 4.7´´(W) x 4.0´´(H) Ball Detent Installed. Matte Black or FDE, Corrosion Resistant.
One (1) CR123 3V Lithium Battery (Dovetail) or External ANVIS Battery Pack (AA/CR123). 30 Hours at Room Temp. Soft Carry Case, Neck Cord, Objective & EP Lens Caps (X2), Eye Cups (X2), Demist Shields (X2), Sacrificial Windows (X2), Tissue, One Lithium AA Battery, Dovetail Mounting Adapter, Ball Detent Mounting Adapter (Manual is not Included). This product is subject to the jurisdiction of the U. Department of State in accordance with the International Traffic in Arms regulations (ITAR) (22CFR 120 through 130).
A license or other approval is required to the ITAR prior to any Export or Temporary Import. I will do my 110% best to get you the best price around.
Please do not hesitate to just ask. We also provide a tracking # and depending on the product we will sometimes require signature confirmation for your security. We only sell Brand New Factory Sealed Products unless otherwise noted. Thanks for taking the time to look at my new store. Do to the nature of some of the products we sell, occasionally an item can become backordered. If this happens, Night Vision Universe will contact you immediately letting you know. Just let us know and we will do whatever you desire. Thank you for shopping with us. Remember Night Vision Universe is your one stop shopping experience for your outdoor and sporting good needs. YOU HAVE OUR ASSURANCE THAT WE STAND BEHIND OUR PRODUCTS. THAT ITEMS LISTED AS NEW WILL BE BRAND NEW NEVER.
OR USED AND IN WORKING CONDITION FREE OF DEFECT. We work very hard to deserve top ratings in all feedback categories, and hope buyers will take a moment to reward us with 5 star feedback, which we always return in kind. We ask buyers to consider the following before leaving feedback.
Please take the time to contact me if something is wrong. I will be more then happy to resolve the issue right away :. 1 Item as described: Did you received what you ordered? We also respond to emails very quickly, often in a matter of minutes or hours, even on weekends and holidays (though on weekends and holidays it sometimes takes a bit longer :-). We trust that our customers will not act that way, just as we don't take advantage of them.
Our total prices are always very competitive. In addition, we ask buyers to limit their feedback comments to our performance in these categories.
If you feel that for some reason we fell short of our goal to receive 5 stars in all categories, please let us know why so we can improve our business. And even if we aren't perfect, please remember that we are human just like you, and we try our best to do things right - so cut us some slack.
We're a small family-owned business trying to make it, not a huge company that doesn't care. Manufactured night vision equipment is strictly prohibited without a valid export license issued by the U. Department of State Office of Defense Trade Controls, in accordance with International Traffic in Arms (ITAR), Title 22, Code of Federal Regulations Part 120-130, and/or the U. For Further information contact the Office of Defense Trade Control and/or the U. By purchasing this item, I understand, acknowledge, and agree to the U. Person, and I do not intend to export this product. Night Vision Universe will not be held responsible for unlawful export. This includes all generations of any night vision optic, thermal optic, laser optic or day optic. Restrictions on the use of night vision with a weapon vary from state to state.
You are strongly advised to learn these laws and adhere to them. Will not be held responsible for unlawful usage. The item "L3 Sentinel BNVS Binocular ANVIS Goggle Night Vision System L-3 OMNI VIII Black" is in sale since Wednesday, September 24, 2014. This item is in the category "Sporting Goods\Hunting\Scopes, Optics & Lasers\Night Vision Optics".
The seller is "night-vision-universe-nvu" and is located in Roseville, California. This item can be shipped to United States.
Night Vision Device Type: Binocular
Model: TNVSENTINEL-L3-BLK
MPN: TNVSENTINEL-L3-BLK
Generation: 3
Brand: Adams Industries
Warranty: 2 Years