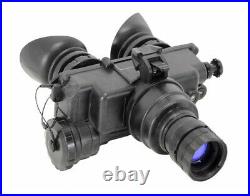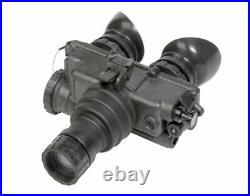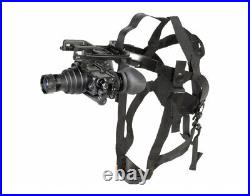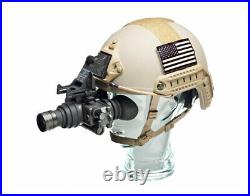 AGM PVS-7 3NL2 Night Vision Goggle Gen 3+ "Level 2" with Headgear. The PVS-7 is widely recognized for its unsurpassed dependability and ergonomic design.
Militarygrade night vision goggle system has repeatedly proven its worth in combat, and is the highest-quality AN/PVS-7 B/D system on the market. The PVS-7 can be outfitted with high-performance Gen 2+ and Gen 3 image intensifier tubes (available in Green phosphor or P45 white phosphor). The PVS-7 is equipped with Automatic Brightness Control (ABC) to adjust image brightness in changing light conditions to maintain image definition and clarity.
The builtin infrared illuminator provides a light source beyond the visible spectrum to enable the user to operate in complete darkness without being detected. Additionally, the PVS-7 has a bright light cutoff feature to protect the image tube from sources of intense light, and a flip-up shut-off feature that can be used with the optional helmet mount system. The PVS-7 has two LED indicators in the eyepiece for the IR illuminator on and low battery indicator.
Lightweight, tough, and versatile, the PVS-7 can be handheld, or mounted to the user's head/helmet. It is compatible with afocal magnifier lenses for superior long-range viewing. Head or helmet-mountable for hands-free operation. Built-in Infrared illuminator and flood lens. Qty indicates Max Spots Allowed in Each Zone. Field of view cleanness by zone. Gen 3 IIT 3NL2 is the second best quality offered by AGM with very limited number of spots in Zone 1. 27 mm; F/ 1.2. 0.2 m to infinity. Low battery; IR On; Excessive light conditions. 2 AA Alkaline or 1 Lithium (BA-5567/ U). Up to 60 hours at 20°C.
40°C to +50°C (-40°F to +122°F). 50°C to +70°C (-58°F to +158°F). 0.68 kg (1.5 lbs).
162 × 152 × 76 mm (6.4 × 6.0 × 3.0 in). Head Mount Assembly, Medium & Thick Brow Pads, Eye Cups, Soft Carrying Case, Daylight Filter, Shoulder Strap, Lens Paper, Sacrificial Window, Demist Shields, Operator's Manual. Export of night vision/thermal equipment and optical sighting equipment is controlled by the U. Department of State Office of Defense Trade Controls, in accordance with International Traffic in Arms (ITAR), Title 22, Code of Federal Regulations Part 120-130 and/or the Export Administration Regulations (EAR) U.
Please see below for more information. I will do my 110% best to get you the best price around. Please do not hesitate to just ask. We also provide a tracking # and depending on the product we will sometimes require signature confirmation for your security.
We only sell Brand New Factory Sealed Products unless otherwise noted. Thanks for taking the time to look at my new store. Do to the nature of some of the products we sell, occasionally an item can become backordered. If this happens, Night Vision Universe will contact you immediately letting you know. Just let us know and we will do whatever you desire.
Thank you for shopping with us. Remember Night Vision Universe is your one stop shopping experience for your outdoor and sporting good needs. YOU HAVE OUR ASSURANCE THAT WE STAND BEHIND OUR PRODUCTS. THAT ITEMS LISTED AS NEW WILL BE BRAND NEW NEVER. OR USED AND IN WORKING CONDITION FREE OF DEFECT. We work very hard to deserve top ratings in all feedback categories, and hope buyers will take a moment to reward us with 5 star feedback, which we always return in kind. We ask buyers to consider the following before leaving feedback. Please take the time to contact me if something is wrong. I will be more then happy to resolve the issue right away :. 1 Item as described: Did you received what you ordered?
We also respond to emails very quickly, often in a matter of minutes or hours, even on weekends and holidays (though on weekends and holidays it sometimes takes a bit longer :-). We trust that our customers will not act that way, just as we don't take advantage of them. Our total prices are always very competitive.
In addition, we ask buyers to limit their feedback comments to our performance in these categories. If you feel that for some reason we fell short of our goal to receive 5 stars in all categories, please let us know why so we can improve our business.

And even if we aren't perfect, please remember that we are human just like you, and we try our best to do things right - so cut us some slack. We're a small family-owned business trying to make it, not a huge company that doesn't care. ITAR COMPLIANCE - THE INTERNATIONAL TRAFFIC IN ARMS REGULATIONS (ITAR). EXPORT POLICY AND EXPORT RESTRICTIONS INFORMATION. Department of State's Directorate of Defense Trade Controls, the U. Department of Commerce's Bureau of Industry and Security, and the U. Department of the Treasury's Office of Foreign Assets Control administer export control regulations that affect some aspects of our business.
We request that you (the "Customer") read and familiarize yourself with the following regarding certain applicable export regulations. Of any product prohibited or restricted for export without complying with U. Export control laws and regulations, including proper export licensing, documentation or authorization, is strictly prohibited and may result in civil penalties and/or constitute a federal crime. Export of night vision equipment and optical sighting equipment is controlled by the U.
It is unlawful to export, or attempt to export or otherwise transfer or sell any hardware or technical data or furnish any service to any foreign person, whether abroad or in the United States, for which a license or written approval of the U. Government is required, without first obtaining the required license or written approval from the Department of the U. It is the Resellers/End Users responsibility to request and obtain export licenses for the export of the subject items, and to ensure that the requirements of all applicable laws, regulations and administrative policies are met.

Sales or transfers to entities on the List of Debarred Parties, Denied Persons list and Embargoed Countries are strictly prohibited. ITAR items and items marked for domestic sale only should only be used by party identified on the Night Vision Universe LLC Sales Order/Invoice for use or resale in the U. Such items should not be exported, provided to foreign persons in the U. Including Foreign Embassies in the U. If/when such items are resold, the original purchasing party must advise customers/end users of their duty to comply with U.

Export control regulations or face the possibility of severe criminal and civil fines including imprisonment if convicted. Furthermore if above mentioned items are resold or transferred in any way, the original purchaser must inform customers/end user(s) that if these items are lost, stolen or destroyed, they must report this fact to Night Vision Universe LLC and provide the date of the incident as well as the associated serial number of the item. Person for this purposes is a U. Citizen, lawful permanent resident as defined by 8 U. 1101 (a) (20), protected individual as defined by 8 U.
1324b(a)(3) and "US Company" as the company entity organized under the laws of the United States. Export of GEN-3 night vision equipment from the United States without a valid export permit issued by the U. Department of State, Office of Defense Trade Controls is strictly prohibited.
Generation 4, autogated/filmless technology is not available for export. Other Restrictions: Restrictions on the use of night vision with a weapon vary from state to state. You are strongly advised to learn these laws and adhere to them. Night Vision Universe LLC will not be held responsible for unlawful usage. By completing your order, you agree to the following.
I understand that the products obtained from Night Vision Universe, LLC. Are subject to the export control laws and regulations of the U.
Government and that they fall under the jurisdiction of either the Department of State or the Department of Commerce. I understand that it is unlawful to export, or attempt to export or otherwise transfer or sell any hardware or technical data or furnish any service to any foreign person, whether abroad or in the United States U. , for which a license or written approval of the U. Government is required, without first obtaining the required license or written approval from the department of the U. I understand that, in the ITAR (§ 120.16), a foreign person means any natural person who is not a lawful permanent resident as defined by 8 U.
1101(a)(20) or who is not a protected individual as defined by 8 U. It also means any foreign corporation, business association, partnership, trust, society or any other entity or group that is not incorporated or organized to do business in the U. As well as international organizations, foreign governments and any agency or subdivision of foreign governments e. Government export controls and regulations and that, if I violate them, it could result in severe criminal and civil penalties (including substantial fines, imprisonment, seizure of controlled products and technical data, and/or suspension/removal of export privileges). Law to receive such product, technology, and/or software. I further understand that exports, re-exports, or transfers of any products to, or for the benefit of, individuals, entities and countries named in the lists referenced in the Lists of Prohibited Individuals, Entities and Countries are strictly prohibited. Due to the ongoing effort to protect our country and for end users to understand export regulations, you may be required to fill out and sign an ITAR/EAR End User Form upon order. If you have any questions on this, please send us a message. Night Vision Universe LLC will not be held responsible for unlawful export. This includes all generations of any night vision optic, thermal optic, laser optic, day optic, etc.
Thank you for your time in carefully reading these regulations and for your compliance. This item is in the category "Sporting Goods\Hunting\Scopes, Optics & Lasers\Night Vision". The seller is "night-vision-universe-nvu" and is located in this country: US.
This item can be shipped to United States.
Model: PVS-7 3NL2
Type: Goggles
MPN: 12PV7123283021
Generation: 3+
Brand: AGM
Warranty: 3 Years
Built-in IR: Yes
UPC: 810027770509