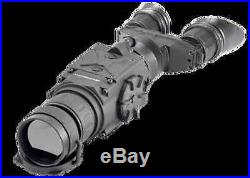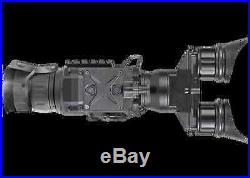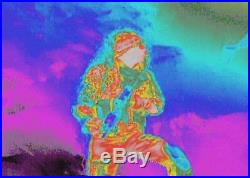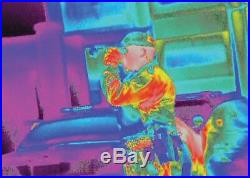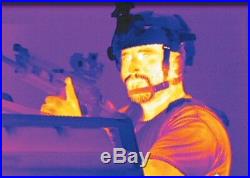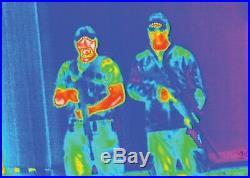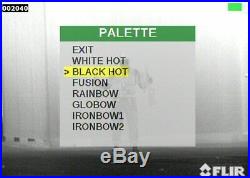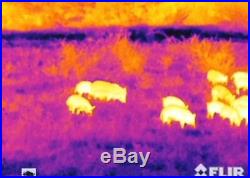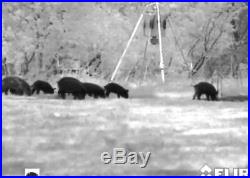 The Armasight Helios line is the latest and most technologically advanced family of thermal imaging bi-oculars on the market today. Bi-ocular design is better for sustained viewing periods and improved depth perception. The Helios product line is based on the latest FLIR Tau 2 VOx microbolometer core, and includes a variety of different models, each optimizing performance, price, and state-of-theart technology for a variety of uses and mission applications. The Helios is a solid state, uncooled, long-wave infrared, magnified, dedicated handheld thermal imager intended for day and nighttime missions. The 24/7 mission capability is just one of the many strengths this product line has to offer.
Thermal imaging technology also allows you to detect targets by cutting through snow, dust, smoke, fog, haze, and other atmospheric obscurants. Unlike the use of laser targeting or near-infrared illumination to augment night vision equipment, Helios thermal imagers are extremely difficult to detect with other devices, as they emit no visible light or RF energy. Armasight is convinced that the Helios thermal imaging bi-ocular represents one of the most sophisticated devices on the market today, due to its superior price-to-performance value. Active Contrast Enhancement (ACE) a digital Contrast correction that allows for a smart scene optimization based on dynamic adjustments where a variety of contrast levels occur depending on relative scene temperature.
Second Generation Digital Detail Enhancement (DDE) a Sharpness correction that is digitally enhances the picture to present clearer imagery, significantly improves edge sharpening and further reduces image noise. Smart Scene Optimization (SSO) a fine-tuning computational correction that significantly improves an overall visual acuity for targets that have thermal signatures similar to a surrounding background. Information-Based Histogram Equalization (IBHEQ) a Sky/Sea enhancement information based environment dependent algorithm that automatically adjusts camera gain and excludes pixels determined to not contain critical information, specifically helpful in scenes with lots of sky or water. User-Controlled Manual Non-Uniformity Correction/Flat-Field Correction (UCMNUC/FFC). There is a mechanical shutter between the camera sensor and the lens. This shutter is used to perform a non-uniformity correction (NUC) also known as flat-field correction FFC. During FFC, the shutter presents a uniform temperature source to each detector element in the array. While imaging the flat-field source, the camera updates the offset correction coefficients, resulting in a more uniform image after the process is complete.
All Helios models allow for user to manually trigger or interrupt scheduled UCMNUC/FFC function. Silent Shutterless NUC (SSN) In addition to user controlled manual NUC/FFC all Helios models employ a digital supplemental non-mechanical flat-field correction that allows to extend the periods between mechanical shutter events and to further reduce image noise. SSN is always ON enhancement. User selectable NTSC or PAL format. Easy and Intuitive Drop-down user interface. Digital E-Zoom:1x, 2x and 4x. Imaging Filter Algorithms: Active Contrast Enhancement (ACE) Second Generation Digital Detail Enhancement (DDE) Smart Scene Optimization (SSO) Information-Based Histogram Equalization (IBHEQ) Silent Shutterless Non-uniformity Correction (SSN). Color Modes: White Hot/ Black Hot/ Rainbow/ Various Color modes. Extended operation time with optional external battery power supply. Recording: video output /optional Video Recorder with onboard replay. CNC machined aircraft-aluminum alloy construction. 2.8x / 3.4x. Type of Focal Plane Array. Discretely Adjustable to 8 Levels. White Hot, Black Hot, Fusion, Rainbow, Globow, Ironbow 1, Ironbow 2, Sepia, Color 1, Color 2, Ice-Fire, Rain, and OEM Custom. Analog Input and Output Format (resolution). PAL (768×574 pixels)/ NTSC (640×480 pixels).
Optional Digital Video Recorder with SD card slot. Active Contrast Enhancement (ACE) - CONTRAST. Second Generation Digital Detail Enhancement (DDE) SHARPNESS.
Smart Scene Optimization (SSO) SMART SCENE. Information-Based Histogram Equalization (IBHEQ) SKY/SEA. 7.8° x 5.9°. Two CR123A 3V Lithium batteries or CR123 type rechargeable batteries with voltage from 3.0V to 3.7V (2). Battery Life at 20 °C (68 °F).

Up to 4 hr (optional up to 12 hrs). Two 18650 rechargeable batteries (3.7V), or four CR123 rechargeable batteries with voltage 3.7V max, or four standard CR123A 3V Lithium batteries (operational time up to 8 hr). 40 to +50°C (-40 to +122°F). 50 to +70°C (-58 to +158°F). 238×100×62 mm (9.4×3.9×2.4 in). 0.8 kg (1.8 lbs). AWReC (Advanced Wireless Remote Control) #94.
Picatinny adapter for AWReC (Advanced Wireless Remote Control). The item "ARMASIGHT Command 336 3-12x42 30Hz 42mm Thermal Imaging Bi-Ocular Goggle 336x256" is in sale since Wednesday, April 27, 2016. This item is in the category "Sporting Goods\Hunting\Scopes, Optics & Lasers\Night Vision Optics". The seller is "stsolutionssales" and is located in Burleson, Texas.
This item can be shipped to United States.
Warranty: 3 Years Unit/10 Years FLIR Detector
Resolution: 336x256
Hertz: 30
Model: Helios 336 3-12x42 30Hz
Night Vision Device Type: Thermal Imaging Bi-Ocular Goggle
Type: Goggles
Features: Thermal Imaging
MPN: TAT173BN4HELI31
Brand: Armasight