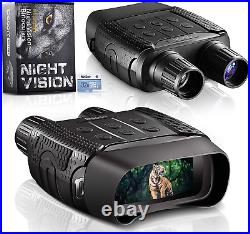 Add this item to your Watchlist. Be The First One To Know When The Item Goes ON SALE! Digital Infrared Goggles Night Vision Binoculars Hunting Darkness LCD Photo BEST. Wide Screen for a Broader View??
A larger screen takes you to a wider visual experience! Night vision goggles with a 2.31'' TFT LCD screen is converted into a 3 inch large screen through a convex lens, so that you no longer miss the wonderful moments of Wildlife at night. No matter in the daytime or night, you can get the fun of hunting and surveillance. Equipped with HD photos shooting and 960P video function allows for crystal-clear viewing. Clear Night Vision in 100% Darkness?? High-performance Infrared Night Vision Goggles with CMOS sensor enables you to achieve a perfect view without limitation of ambient light. 850 NM IR illuminator with 7 gears adjustment allows you to have a clear view in range 300m/984ft in 100% dark.
Meanwhile, in the daytime, you can view targets at an infinite distance range. Do not miss the fun of spotting wildlife in pitch dark!
Multifunctional Binoculars-HD Video & Photos?? Thanks to outstanding optical clarity, with this night vision goggles, you can quickly capture perfect photos and high-definition videos, which are color imaging during daytime and black & white image at night. The smooth playback and pause functions allow you to review wonderful moments at any time. It's never been easier to use USB to transfer crisp photos & videos to any electronic device to instantly download them to share with your friends. Featured with excellent optical clarity, day and night use fully multi-coated 25 mm objective lens, 3x magnification and 4x digital zoom Infrared Binoculars are ideal for animals and flying creatures surveillance.
High-performance Digital Night Vision Binoculars can run continuously for 11 hours, high-definition images with 1280x960 pixels, 1280x960 at 30FPS video. The body's unique non-slip and 6-button design is easy to use. Go Adventure with Superb Equipment?
Undoubtedly, this night vision binoculars are your perfect'friend' for exploringin pitch dark! It can be used for observation, reconnaissance, security surveillance, whether indoor or outdoor, or just beware of intruders while camping.
It is an ideal infrared spy gear for night hunting, sailing, fishing, bird watching, exploring caves, watching coyotes, wild boars, livestock, vinoculares vision nocturna. Your First Choice for Night Adventure-Night Vision Binoculars. The newly developed Night Vision Goggles support Day and Night used and provide multiple functions, including 960P photo taking and recording functions, video playback, 7-level infrared adjustment, 3x optical magnification, and 4x digital zoom. There is no doubt that this will be the ideal equipment for your night adventure! Day and Night Use - Colorful VS Black & White.
The Night Vision Binoculars with digital infrared can be used both day and night. Original color scene are displayed without infrared in the daytime. All the scenery presented in front of you is the most realistic color, and the visual distance can reach infinity. The night scene will turn into a black-and-white movie, and the invisible infrared beam will be used for more concealed monitoring, and the visible distance can reach 984ft. Keep on Your Footsteps of Adventure in the Dark.
7-level infrared allows you to see more clearly in complete darkness. When you short press IR+ or IR-, you can adjust the intensity level of infrared rays. The higher the infrared level, the brighter the scene that appears on the screen, which is suitable for darker scenes. Bring You a Clearer Vision.
2.31'' Built-in TFT LCD screen, magnified by a convex lens to a 3-inch observation screen, allowing you to get a wider field of vision, more comfortable for the eyes during monitoring, and easy for users with glasses to watch. That's easy to control!
Unlike other complicated products, you can zoom in or out smoothly to get 4X Digital pixel by long pressing IR+ or IR-, allowing you to monitor and photograph wild animals more clearly than ever! Manual Focus by Rotating the Wheel.
This Infrared Binoculars works like our eyes. Rotate to left to focus on farther target, and to the right to focus on closer targets. You've got it all under control!
The thoughtful non-slip design allows you have no worry about dropping the night vision goggles at night accidently. Help you hold the night vision device tightly for any operation. With IP56 water resistance feature, waterproof Night Vision Binoculars works well even in the rainy day. No need for complicated operations, a simple button allows you to easily switch between taking HD photos, recording and playing 960P videos. Use your favorite mode to record amazing moments anytime, anywhere! It's never been easier to use USB or TF card to transfer crisp photos & videos to any electronic device and instantly download them to share with your friends. Pantalla ancha para una vista más amplia?? ¡Una pantalla más grande te lleva a una experiencia visual más amplia! Las gafas de visión nocturna con una pantalla TFT LCD de 2,31'' se convierten en una pantalla grande de 3 pulgadas a través de una lente convexa, para que ya no te pierdas los maravillosos momentos de la vida silvestre por la noche. No importa si es de día o de noche, puedes obtener la diversión de la caza y la vigilancia. Equipado con toma de fotos HD y función de video 960P permite una visualización nítida. Visión nocturna clara en 100% de oscuridad?? Las gafas de visión nocturna infrarrojas de alto rendimiento con sensor CMOS le permiten lograr una vista perfecta sin limitación de luz ambiental. El iluminador IR de 850 NM con ajuste de 7 velocidades le permite tener una visión clara en un rango de 300 m/984 pies en un 100 % de oscuridad. Mientras tanto, durante el día, puede ver objetivos en un rango de distancia infinito. ¡No te pierdas la diversión de observar la vida silvestre en la oscuridad total! Binoculares multifuncionales: video y fotos HD??
Gracias a la excelente claridad óptica, con estas gafas de visión nocturna, puede capturar rápidamente fotos perfectas y videos de alta definición, que son imágenes en color durante el día e imágenes en blanco y negro durante la noche. Las funciones de pausa y reproducción fluida le permiten revisar momentos maravillosos en cualquier momento. Nunca ha sido tan fácil usar USB para transferir fotos y videos nítidos a cualquier dispositivo electrónico para descargarlos instantáneamente y compartirlos con sus amigos.
Sistema de Zoom óptico Profesional?? Presentado con una excelente claridad óptica, uso diurno y nocturno lente de objetivo de 25 mm totalmente multicapa, aumento de 3x y zoom digital de 4x Los binoculares infrarrojos son ideales para la vigilancia de animales y criaturas voladoras. Los binoculares de visión nocturna digital de alto rendimiento pueden funcionar continuamente durante 11 horas, imágenes de alta definición con 1280x960 píxeles, 1280x960 a 30FPS de video. El exclusivo diseño antideslizante y de 6 botones del cuerpo es fácil de usar.
Vaya a la aventura con un excelente equipo? Sin duda, estos binoculares de visión nocturna son su'amigo' perfecto para explorar en la oscuridad total. Se puede usar para observación, reconocimiento, vigilancia de seguridad, ya sea en interiores o exteriores, o simplemente para tener cuidado con los intrusos mientras acampa. Es un equipo de espionaje infrarrojo ideal para caza nocturna, vela, pesca, avistamiento de aves, exploración de cuevas, avistamiento de coyotes, jabalíes, ganadería, vinoculares visión nocturna.. Su primera opción para la aventura nocturna: binoculares de visión nocturna Las gafas de visión nocturna recientemente desarrolladas admiten el uso diurno y nocturno y brindan múltiples funciones, incluidas funciones de toma y grabación de fotos 960P, reproducción de video, ajuste infrarrojo de 7 niveles, aumento óptico 3x y zoom digital 4x.
¡No hay duda de que este será el equipo ideal para tu aventura nocturna! Uso diurno y nocturno - Colorido VS Blanco y negro Los Prismáticos de Visión Nocturna con infrarrojos digitales se pueden utilizar tanto de día como de noche. La escena de color original se muestra sin infrarrojos durante el día. Todo el escenario que se presenta frente a usted es el color más realista y la distancia visual puede llegar al infinito.
La escena nocturna se convertirá en una película en blanco y negro, y el haz infrarrojo invisible se utilizará para un control más oculto, y la distancia visible puede alcanzar los 984 pies. Sigue tus pasos de aventura en la oscuridad El infrarrojo de 7 niveles le permite ver más claramente en la oscuridad total. Cuando presiona brevemente IR+ o IR-, puede ajustar el nivel de intensidad de los rayos infrarrojos. Cuanto mayor sea el nivel de infrarrojos, más brillante será la escena que aparece en la pantalla, lo que es adecuado para escenas más oscuras. Brindarle una visión más clara Pantalla LCD TFT incorporada de 2,31'', ampliada por una lente convexa a una pantalla de observación de 3 pulgadas, lo que le permite obtener un campo de visión más amplio, más cómodo para los ojos durante el monitoreo y fácil de observar para los usuarios con anteojos. Acercar y alejar con un solo clic ¡Eso es fácil de controlar!
A diferencia de otros productos complicados, puede acercar o alejar el zoom sin problemas para obtener píxeles digitales 4X presionando prolongadamente IR+ o IR-, ¡lo que le permite monitorear y fotografiar animales salvajes con más claridad que nunca! Enfoque manual girando la rueda Estos binoculares infrarrojos funcionan como nuestros ojos.
Gire hacia la izquierda para enfocarse en un objetivo más lejano y hacia la derecha para enfocarse en objetivos más cercanos. ¡Lo tienes todo bajo control!
El cuidadoso diseño antideslizante le permite no preocuparse por dejar caer las gafas de visión nocturna por la noche accidentalmente. Lo ayuda a sostener firmemente el dispositivo de visión nocturna para cualquier operación. Con la función de resistencia al agua IP56, los binoculares de visión nocturna a prueba de agua funcionan bien incluso en días lluviosos. Cambio simple entre modos No es necesario realizar operaciones complicadas, un simple botón le permite cambiar fácilmente entre tomar fotos HD, grabar y reproducir videos 960P. ¡Use su modo favorito para grabar momentos increíbles en cualquier momento y en cualquier lugar! Comparte tu maravilloso momento Nunca ha sido tan fácil usar una tarjeta USB o TF para transferir fotos y videos nítidos a cualquier dispositivo electrónico y descargarlos instantáneamente para compartirlos con sus amigos. 6.97 inches x 9.33 inches x 3.43 inches. Thanks For Shopping With Us. We do not accept P. Please provide a physical address. We will professionally handle your concerns and return requests as it has been done already for all of our customers. We will promptly respond to your messages and will help to resolve the issue as soon as possible. We try our very best to make sure every customer is completely satisfied. If there's a problem, message us! We're happy to help. This item is in the category "Cameras & Photo\Binoculars & Telescopes\Binoculars & Monoculars". The seller is "partsell2016" and is located in this country: US. This item can be shipped to United States.
UPC: 705353642128
EAN: 0705353642128