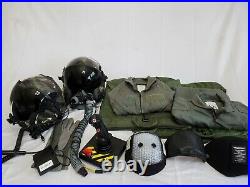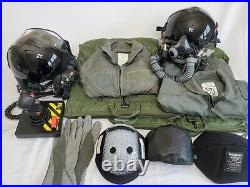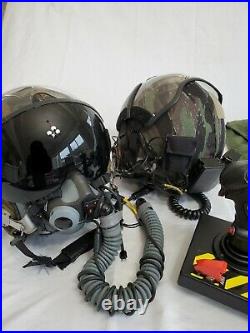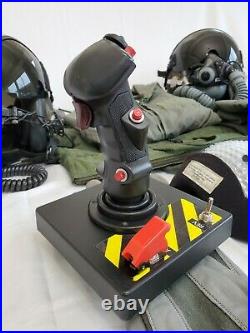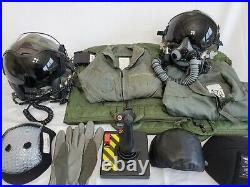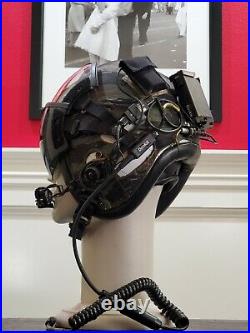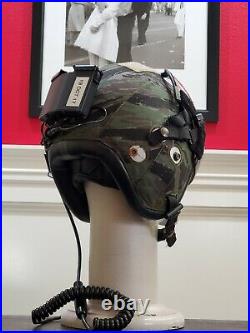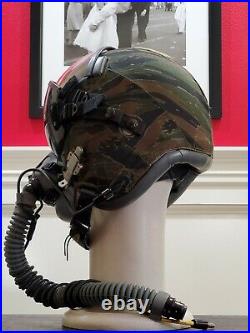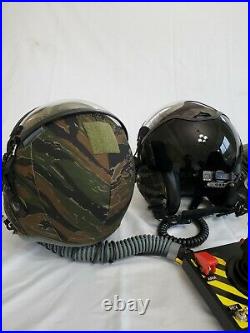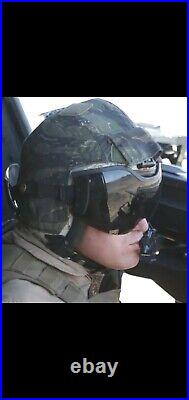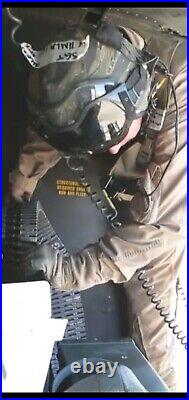 Please read in its entirety. What you see in the group picture is what you are purchasing. I DO NOT have a way to test the communication cables, mics, oxygen mask, mic light and the battery pack to see if they function, so Please, consider them all as broken/non-serviceable/non-functioning display pieces.

Again, everything will come to you is, AS IS. I do NOT guarantee anything.
HGU-55 is a size Large with a manufacture date of 2007 according to the label placed on the inside of the helmet. Helmet will come with a memory foam liner as pictured in the group lot as well as a tinted visor and a clear visor that are snapped together. MBU-20 is a size Small Narrow but I don't know the manufacture date. There is round stamp 07/08/09 next to the oxygen size, so I'm guessing the manufacture date is either 2007, 2008, or 2009.
Oxygen hose is soft and pliable, and it is complete without any missing pieces. Please refer to the picture. Again, I DO NOT have a way to check functionality so please consider the MBU-12 as NON-functioning. HGU-84 is a size Medium with a manufacture date of 2017 according to the label on the inside of the helmet.
Helmet comes with a helmet liner as seen the group picture. The helmet will come with tinted and clear visors as well. Other than the reflective tape having superficial scratches, the helmet itself is in good condition. Again, I DO NOT have a way to check communication cables and mic serviceability, so please consider them non-fucntioning pieces. HGU-84 Helmet is made to accept a Face Shield attachement and is wired for Active Noise Reduction. Battery pack that comes with the HGU-84 helmet has a cable sheath that is FRAYED right at the battery box junction exposing the red, white, and black wires, so PLEASE take a note of that. Flight Grip Stick is a REPLICA from a Helicopter, or from a Fighter Jet, or could be from both. I don't own a real Flight Grip Stick for comparison so it's hard to tell if the REPLICA is a true scale. Please note that I will NOT be including a wooden plaque for the Flight Grip.
Each helmet cover is Custom Tailored and Custom Fitted to each of the Flight Helmets. Both helmet covers are double and triple stitched to increase durability and strength. The fit is snug to insure proper fit. Two (2) Flight Bags will come with the package, as well as two (2) Flight Suits and a pair Flight Gloves. I'd write more descriptions about these items but I don't think there's anything more to say about them.
Everything will come to you AS IS, AS IS, AS IS. I DO NOT guarantee anything. CTTO: Picture of a real flight grip stick you see in the ad is for REFERENCE use ONLY, to compare the REPLICA Flight Grip Stick that comes with the group lot that you are purchasing. CTTO: Picture of the person wearing the HGU-84 helmet with a Tiger Stripe Helmet Cover is for reference photo only. HGU-55, HGU-84, MBU-20, NVG Low Profile Battery Pack, Flight Grip Stick.
The item "Flight Helmet, HGU-55, HGU-84, MBU-20, NVG Battery Pack, Flight Grip Replica lot" is in sale since Tuesday, December 14, 2021. This item is in the category "Collectibles\Militaria\Current Militaria (2001-Now)\Original Items\Hats & Helmets". The seller is "nutsack_to_ballsack_how_copy_over" and is located in Elk Grove, California.
This item can be shipped to United States.