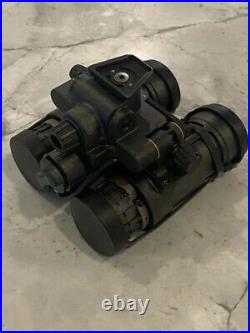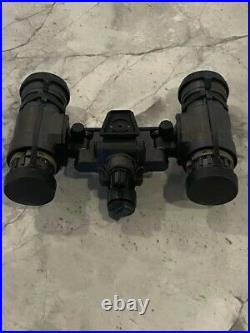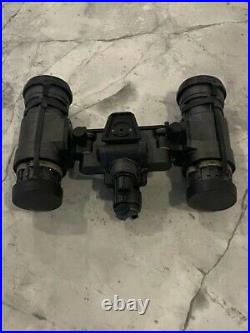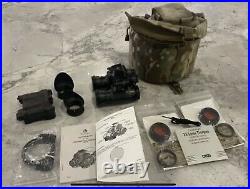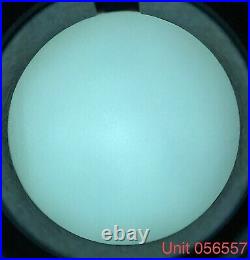 Kosher Surplus is an authorized dealer for L3 Harris. SPECS BELOW AND PICTURES ARE OF THE ACTUAL UNIT YOU WILL RECEIVE. Unit 056557 72 Resolution, 35.6 SNR, 2563 FOM, 1.4 EBI, 0.71 Halo, 63982 gain. ZERO spots on L3 data sheet / 72 Resolution, 36.6 SNR, 2635 FOM, 1.3 EBI, 0.65 Halo, 2635 gain. ZERO spots on L3 data sheet.
These units will come with the L3Harris 4x AA Cold Weather Battery Pack (CWBP) and 25 90 degree cable connector, as well as the full factory accessory kit THIS DOES NOT INCLUDE EXTRA DIOPTER INSERTS. The standard diopter is -0.50, this is optimized for the 95th percentile of users, alternate diopters will be special order items. They will all be 2376+ FOM, Unfilmed White Phosphor tubes. One of the most sought after and frequently requested night vision products now on the commercial marketthe L3Harris Binocular Night Vision Device (BNVD)!

Adopted by USSOCOM as the AN/PVS-31A, the L3Harris BNVD has been in use by U. Special Operations Forces for several years as well as allied forces, however they have not been widely available on the commercial market. The L3Harris BNVD is one of the lightest binocular night vision systems on the market, with unparalleled optical performance with lightweight optical lens assemblies optimized to maximize the performance of the Unfilmed 2376+ FOM (figure of merit) White Phosphor image intensifier tubes, and features both an onboard AA battery and an external power connector to be used with an external power supply.
Each unit will also come with factory image intensifier Tube Data Records with a minimum figure of merit (FOM) of 2376. These units are NOT contract overrunsthese are brand new manufactured units, and they will be available as regular stocking units from TNVC, though demand is expected to be extremely high. The AN/PVS-31A Binocular Night Vision Device (BNVD) is compact, lightweight, dual tube Gen3 goggle to replace the legacy AN/PVS-15 in the USSOCOM inventory. In a sea of dual tube night vision goggles, the AN/PVS-31A is the smallest and lightest unit by far. Weighing in at just under one pound, this system is almost as light as a monocular, yet packs in the same feature set (and then some) of much heavier devices.
Special Operations Forces input, the AN/PVS-31A was designed to increase system resolution, significantly reduce head borne weight, improve system of center of gravity, provide additional operational utility, and improve overall operator situational awareness. The AN/PVS-31A BNVD utilizes L3Harriss latest Gen3 Unfilmed image intensifier tubes, providing unmatched clarity and resolution.
These tubes are variable gain-capable, allowing operators to adjust the brightness of their image as situations on the ground dictate. Gain adjustment is quick and easy; done by simply rotating the power button. This centrally-located control activates and deactivates the goggle when pressed and held in for two seconds, making all controls easy to locate and operate without being able to see them and while wearing gloves. There is no integral infrared illuminator in the AN/PVS-31A BNVD. This feature was not desired by most operators due to its limited distance functionality and added weight/size.

The AN/PVS-31A can run off a single on-board AA battery or a remote battery pack mounted behind the helmet for extended use. The remote pack allows the goggle to weigh in even less and acts as a counterweight to the entire system. It also features built-in dual infrared strobe lights for ground personnel identification. The strobes can be easily activated by a small protected switch under the battery housing. One thing to note is that the cable connecting the goggle to the remote battery pack will slightly interfere with the right tubes ability to be pivoted up (see below).
The AN/PVS-31A BNVD has independently pivoting tube housings that allow the operator to run the goggle in a binocular or monocular configuration. Using two tubes at once allows the eyes to create depth perception and increases the ease in maneuvering terrain and obstacles as well as operating devices such as control panels and door knobs. However, monocular configurations allow for ease in transitioning between various lighting conditions that often occur on the battlefield and cause operators to switch between night vision weapon-mounted white lights.
The AN/PVS-31A can be configured to adapt to various situations, giving the user the best of both worlds. Another benefit to the pivoting tube housings is the ability to mount the flatten the goggle against the front helmet surface when stowed. Goggles are often worn throughout the duration of a mission, even in daylight hours, because operators may find themselves in a dark environment.
NVGs are often left in the stowed position until needed so they can be instantly accessed. But, this causes a snag hazard since the goggles can easily bang into objects while flipped up.
The ability to pivot the tube housings against the helmet surface creates an overall lower profile, increasing operator safety and equipment life. Export of Night Vision Equipment or related accessories (such as manuals) is strictly regulated by the US Department of State in accordance with the guidelines of the International Traffic in Arms Regulations (ITAR). The item "L3HARRIS BNVD (AN/PVS-31A) 2376+ FOM White Phosphor Night Vision Goggle Package" is in sale since Thursday, August 12, 2021.
This item is in the category "Sporting Goods\Hunting\Scopes, Optics & Lasers\Night Vision Optics". The seller is "koshersurplus" and is located in Houston, Texas. This item can be shipped to United States.
Brand: L-3
Type: Goggles
MPN: Does Not Apply