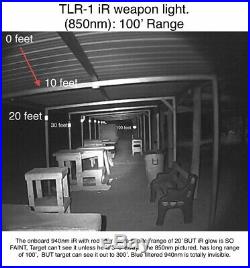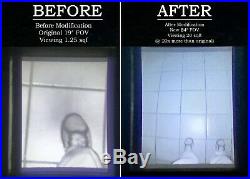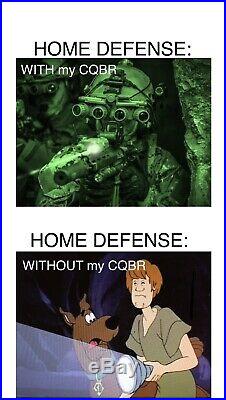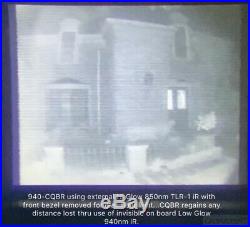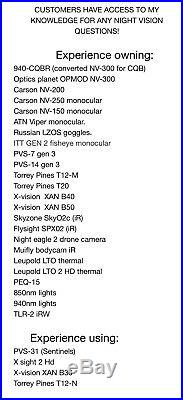 Video will open in a new window. 940 CQBR Blue Filter: 100% invisible:; 20' range. Cqbr using TR1 iR 940nm.
940 CQBR using 850nm iR flashlight bouncing off ceiling. 940-CQB Home Defense night vision. CQBR using 940iR with red filter. CQBR using TLR 1 iR: 850nm 100 feet Range. CQBR using TLR 1 i converted to 940nm 50 feet shine exposes 60 feet.
940-CQBR OPMOD Using TLR-2 Eye Safe model. STOP: If you need to look at baby deer in the backyard at 25-75 yards... The original NV-300 is awesome for civilians needing to view at a distance at an opponent that is harmless.
Get one for your kids birthday... Fun for the whole family. BUT, if your opponent SHOOTS BACK, and is in your LIVING ROOM.... You need MY MODIFIED NV-300 scope with a WIDE FOV and an 100% INVISIBLE iR light source! My 940-CQB-R modification is the winning recipe! THIS IS A NEW IN THE BOX UNIT THAT I CONVERT AND IS OPTIMIZED FOR INDOOR CQB/HOME DEFENSE AND OUTDOOR NAVIGATION. ORINGINAL 80 FOOT RANGE IS SACRIFICED FOR COMPLETELY INVISIBLE 20 foot range INDOORS AND LOW GLOW iR FOR OUTDOORS! My conversion sacrifices medium range viewing in order to increase short range performance that EXCEEDS performance of a gen 3 pvs-14!! The wide FOV makes my CQBR actually SUPERIOR to any device on the market, for close range use! My handmade CQBR is the ONLY 100% invisible digital Scope available! My unit has gen 3 performance and gen 3 stealth, indoors, at 1/10th the cost.
The 940-CQB-R is for home defense and superior outdoor navigation. Optimized for stealthy navigation outdoors. IR has thin filter and 20 foot range indoors AND outdoors. The included Blue filter makes it 100% invisible by human eyes! THIS PACKAGE INCLUDES THE HANDS FREE mount of your choosing: Head strap or Helmet mount(helmet not included).
The Original NV-300 is good for long medium range use but it is useless for navigation or identifying targets at close distances and the original 850nm iR glows so brightly, you can be seen/targeted from 300 feet away. These features are incompatible with close range use, So i converted the NV-300 For my needs. I custom convert the Carson/OPMOD night scope to have an invisible 940nm iR and a wide FOV similar to that of an iphone at 1x zoom, and a new style of iR filter. My new 940nm iR plus my filter results in the world's ONLY, truly invisible, digital night scope! I have bought and tried almost every night vision device there is. My Gen 3 PVS-14's are awesome but aren't portable. This version comes with an awesome belt holster! The FACTORY Carson/OPMOD Mini Aura Digital Night Vision scope is the smallest and lightest night vision on Earth. It is truly a state of the art masterpiece!
The FACTORY model is great for looking at objects that are 15 yards to 75 yards away, but the target CAN see the 850nm iR glowing from 300 feet away. The FACTORY model with its 19° FOV is useless for walking or target detection and identification at CQB distances.
The original is useless when requiring stealth and movement around humans. The photos don't do justice to the real view screen.. I have to take seperate pic of the screen with iphone and resolution is lost. The actual screen looks as good as a military pvs-14.
Screen is sharp and focus is crisp. The number one statement made by customers when I demo the OPMOD is "wow, this is REALLY clear". I change the lens from a 19 degree(similar to iphone at 5x zoom) to a 84 degree that now sees 20x more ground/FOV. You can see an entire room in one glance with no scanning... Or see where you are walking without moving head back and forth... You can see 10 feet ahead of you all at once!
The range of the 940-CQB-R scope is now optimized for zero to 20 feet INDOORS AND OUTDOORS. Expect gen 3 style performance when using indoors! With blue filter removed: Outdoor performance is also 20 feet with on board 940nm iR. It is a very very faint glow. Itd be fair to say its truly invisible...
But it is very very faint. Expect 60-90 minutes of battery life using on board iR. Expect 3 hours battery life if the iR is turned off and using external iR...
Origin Story: A year ago, at Mom's house at night, out of the corner of my eye, a mysterious intruder whizzed by the door! My first thought was,'if i had night vision, this would be the most one sided gun fight in history! , BUT all of my devices were off body and not availible(my gen 3 pvs-14 was in my bug out bag, in trunk of my car)... And there was not a single night vision device small enough to carry everyday except the OPMOD (and as I later discovered, Torry Pines T12 thermal)...
Turns out it was just the family dog; she had gotten inside unnoticed. There was no actual human intruder, but i didn't forget the lesson i learned that night! Next time, i was going to have NIGHT VISION on my person as much as my sidearm is! That night i began the 3 month search for small short range, effective and PORTABLE night vision. I found that THERE IS NO FACTORY NIGHT VISION ON EARTH THAT MEETS THOSE SPECS... Ive made the greatest INDOOR HOME DEFENSE night vision scope on the market: I call it the 940-CQB-R. There is NOTHING on the Earth that is as OPTIMAL for close range as THIS night vision conversion. The Torrey Pines Thermal T-12M comes close to being useful with its 50° FOV, but the resolution isn't sufficient for navigation or target indentification I recommend the T12-W model instead of the M...
You can'detect' targets at a fair distance of 25-100 yards with the W, but you can't identify them and CAN NOT navigate to them or away from them with T12-M or W, so might as well get the extra distance from the W. (My pvs-14 is in the trunk of the car)... But the next intruder in my house is going to be up against my Converted Carson that i pull out in 2 seconds from my belt holster! The 940-CQB-R at 84° FOV has double the FOV As the PVS-14s 40° FOV, and is just as invisible...
Bear in mind, indoors, the PVS-14 must ALSO use 940 iR light to see! So, in many ways a GEN 3 indoors reverts to a GEN 1. Outdoors, expect it to perform about 2x BETTER than the flashlight app from your iphone... Yes, thats a pitiful 20 feet of outdoor vision, but expect to be able to walk around safely IN TOTAL STEALTH, using the converted 940-CQB-R...
But you shouldn't ride a bike or ATV or any machine. You will easily be able to detect a human at 30-40 feet and identify friend or foe at 20 feet. Helmet mount fits into YOUR provided helmet in the traditional sqaure rhino mount on the helmet. The Head strap and mount is a self contained unit and needs only the CQBR night vision unit to be screwed into the mount to be complete.
Contenders for concealed carry night vision. But the resolution is too low for nav and identifying... The high resolution pics in the ads are combining the daytime camera's high resolution pics with the thermal overlaid. At night this high resolution goes away.
Resolution in total darkness is not usable for nav or identification. 8x brings FOV to 29° but still too small for optimal short range use... Ghost hunter 1x24: this unit only has a 30° FOV but is a VERY clear resolution. Its as big as a PVS-14, so its not concealed and it requires its onboard visible 850nm light source. So its not in the same league as my 940-CQB-R for stealth, Situational awareness and portability. But the 1x24 is a quality unit with good battery life. The item "Night Vision Modd With Wide FOV & military iR + Hands Free. Goggle Monocular" is in sale since Thursday, October 10, 2019. This item is in the category "Sporting Goods\Hunting\Scopes, Optics & Lasers\Night Vision Optics".
The seller is "moreredgermanshepard" and is located in Starkville, Mississippi. This item can be shipped to United States.
Brand: Carson
Custom Bundle: Yes
Modified Item: Yes
Model: 940-CQB-R
Type: Monocular
Bundle Description: Comes with Original box, manual, belt holster, lanyard. (hands free Hat mount sold separately).
Built-in IR: With Built-in IR
Country/Region of Manufacture: United States
Generation: Generation 1
Modification Description: I Change The Factory 19° Lens For A 84° Lens.
I Change The High Glow 850nm iR LED to A Military Style 940nm iR Low Glow iR.