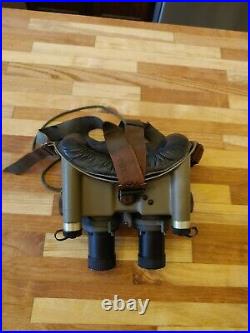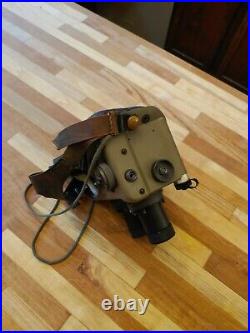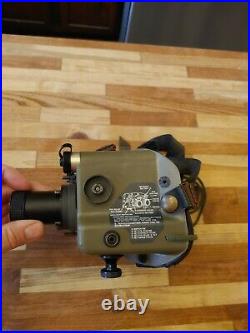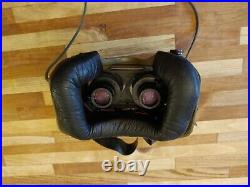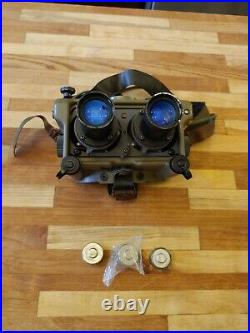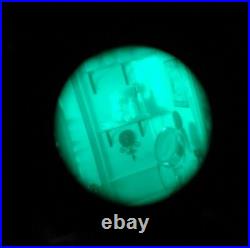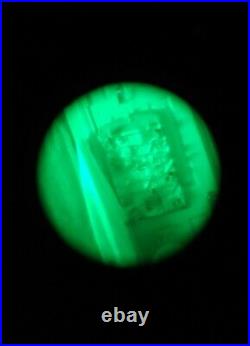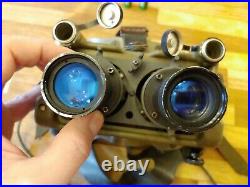 In very nice working condition. The housing is in like new condition. The auto gate unit works. The tubes are gen 2 they both work. All 3 battery compartments are clean and working. Uses either AA's or the BA-5367/U battery (you cannot use the AA and military battery at the same time). Comes with 3 of the military button battery's.
The tubes have a few small specks on them dust? Which is typical of these older units. The right tube has a small grey area at the bottom i suspect from the muzzle flash of an weapon which will happen eventually if used with sustained fire. (i really do not notice it when walking or looking around).
The left side is fine. The front of the lenses have a bit of paint chips/wear. The focus on both lenses turn smooth no grit. The dioptic adjustments on both tubes turn smooth no grit. The glass is clean no scratches. These focus sharp they are 1X and very easy to walk around wearing. Most of the time (98%) i do not need an IR light..
The tubes work very well. The metal internal mount is like new all adjustments turn and move smoothly. Add this to your military collection or museum. This is an ITAR controlled unit. Export of night vision equipment and optical sighting equipment (including user manuals) is controlled by the U.
Department of State Directorate of Defense Trade Controls, in accordance with the International Traffic in Arms Regulations (ITAR), Title 22, and Code of Federal Regulations Part 120-130 and/or the U. Department of Commerce Bureau of Industry and Security in accordance with the Export Administration Regulations (EAR), Title 15, Code of Federal Regulations Part 730. Some of this equipment may require a license for export or re-export from the United States. Any sale of equipment is intended to be made in strict compliance with U. It is the purchaser's responsibility to request and obtain any required export licenses for the subsequent export or re-export of the subject items and to ensure that the requirements of all applicable laws, regulations and administrative policies are met. In addition, subsequent transfers of any products to individuals or entities on the List of Debarred Parties, Denied Persons List, Specially Designated Nationals List, Entity List, Unverified List or Nonproliferation Sanctions List, as well as sales or transfers to embargoed countries, are strictly prohibited. It is the purchaser's responsibility to be aware of these lists.
I understand that all products obtained from are subject to one or more of the export control laws and regulations of the U. Government and that they fall under the control jurisdiction of either the Department of State or the Department of Commerce.
I understand that it is unlawful to export, or attempt to export or otherwise transfer or sell any hardware or technical data or furnish any service to any foreign person, whether abroad or in the United States U. , for which a license or written approval of the U. Government is required, without first obtaining the required license or written approval from the department of the U.
I understand that, in the ITAR (§ 120.16), a foreign person means any natural person who is not a lawful permanent resident as defined by 8 U. 1101(a)(20) or who is not a protected individual as defined by 8 U. It also means any foreign corporation, business association, partnership, trust, society or any other entity or group that is not incorporated or organized to do business in the U. As well as international organizations, foreign governments and any agency or subdivision of foreign governments e. History: 59 FR 25811, May 18, 1994; 71 FR 20534, Apr.

Government export controls and regulations and that, if I violate them, it could result upon conviction in severe criminal and civil penalties (including substantial fines, imprisonment, seizure of controlled products and technical data, and/or suspension/removal of export privileges) for my company and me. I further understand that sales or transfers of products to individuals, entities and countries named in the lists referenced in the Lists of Prohibited Individuals, Entities and Countries are strictly prohibited. The item "PVS-5 Night Vision in excellent condition an/pvs5c gen 2" is in sale since Thursday, September 24, 2020.
This item is in the category "Sporting Goods\Hunting\Scopes, Optics & Lasers\Night Vision Optics". The seller is "alamo_datacom" and is located in Kerrville, Texas.

This item can be shipped to United States.