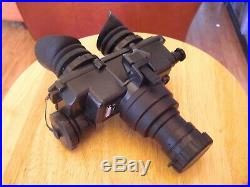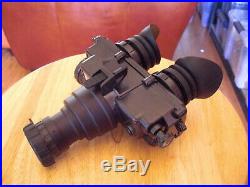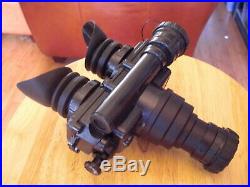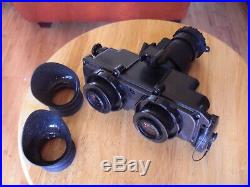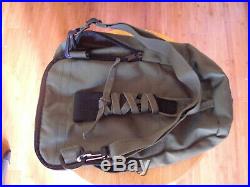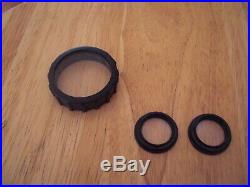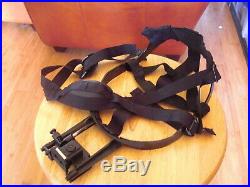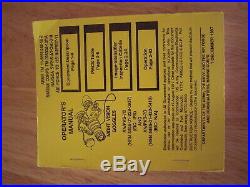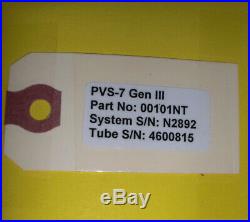 For a great deal more information on night vision in general, and also a place to find decent prices, go to Nightvision For Less (it's a website - google it). The people who work there are friendly and well informed, at least in my experience, and among a consensus of five star reviews.
PVS-7 Gen 3 Autogated/pinnacle night vision goggles: Res 64/72. Used about five times during nice weather, perhaps five hours total activity, Im still using the same pair of double As that came with the unit. Very carefully handled, no bright light sources. IR works perfectly; Autogation works perfectly, no halo around ambient lights. Lenses very carefully looked after, unit never dropped, never bumped, never turned on in a lit room (although the Autogation is designed to handle this) never sneezed on, never given a dirty look. There is a slight chip in the black coating on the exterior top of the intensifier tube, which is visible in one of the pictures. It was like this when I got it, and I have in no way exacerbated the imperfection. This of course has no effect on function. The ocular part of the unit was made by Night Optics. If you do an internet search for their brand, you will find that they went out of business several years ago. The group who assembled this unit for me simply had a surplus of these parts, and paired them with New L3 tubes. Head gear works as intended. The apparatus will take some getting used to, but it functions well for its purpose.
Note: The head harness does not have a flip-up feature, the goggle can only be telescoped forward and back on rails in order to meet your eyes, or be fully detached. De-mist snap on lenses included, operators manual, lens covers, eye cups, carrying case, sacrificial lens (ceremonial altar not included :), forehead fitment pads, S/M/L. The original price of this unit is too much to absorb long term. Late last year, I had an itch to relive those months of nighttime clarity a decade ago.
Yet, considering a general equilibrium learning curve when wearing a PVS-7, and chiefly the fact that head mounted NVG units cannot be used when firing weapons, unless accompanied by an IR weapon mounted laser, the usefulness of this expensive goggle begins to wane, at least for me. If you are navigating unknown mountainous terrain while wearing a PVS-7 goggle, the limited FOV and aforementioned depth perception changes will slow your pace to a crawl, if not outright cause maladroit mishaps. Like anything though, these mental adjustments can be made, the same way you learn to ride a bike. Gen three PVS-7 goggles are not a toy. Unless accompanied by an IR laser or a weapon mounted generation equivalent scope, these goggles are little more than a neat talking point, or an eclectic aid to stealthy nighttime hiking. I suggest purchasing these only if you know how they work and have a practical long term use. There is not thing one wrong with the unit; any infantryman or Special Forces operator would be happy with this as standard issue. It just does not fit with my arrangements, at least not in terms of extended practical use. I have used the unit under many nighttime lighting conditions; full moon, half moon, quarter moon, exclusively starlight and heavy overcast. Nowhere on the image have I noticed any kind of blemish or artifacting. It requires professional grade equipment to measure the perfection or imperfection level of an intensifier tube. Companies sell intensifier tubes based on two criteria, the first is off the shelf, the second is hand selected.
Off the shelf means there could be 1 to 3 blemishes, hand selected means there is guaranteed to be no blemishes. On average, hand selected costs exactly twice as much as off the shelf. However, there are no detectable blemishes. Every intesifier tube is different and half the time you can get an off the shelf tube that has no blemishes. This unit here is one of those off the shelf packages that has no detectable blemishes, simply because every intensifier tube is different, and you get lucky sometimes.
The only possible consideration you might want to be aware of is that nightvision intended for astronomy must have a completely clear image, so that the night sky doesn't appear to have distracting anomalies. I have also done some night sky viewing with this unit, and have not detected any imperfections in the FOV. As I said though, professional grade equipment under precise conditions would be needed to acsertain if an intensifier tube is perfectly clear. In strict terms though, there is no such thing as an absolutely perfect intensifier tube image, they all have some artifacting in one form or another, it's simply a matter of degree. In my truthful opinion, this unit's FOV is in the 98-99 percentile range.
I guess you only have my honest word on that. There is no manual gain adjustment. The unit has an automatic thirty second extreme light cut off, and also Auto Gation for transitions from dark forest to bright urban settings without having the image becoming washed out. This is primarily a hard use ground unit, made for infantry, so if you are exclusively doing star gazing, there might be a better choice out there that has more detailed specs, ideally with an EBI below 2.0. However, I can say that the Gen Three tube is Green, Thin Filmed.
Pinnacle is the term for Thin Filmed. The goggles did not come with a spec sheet. The group I bought this from provided a spec sheet with the next level up on gen three, tubes that are carefully looked over for blemishes. I will try to provide their company name here. Just ignore the pound signs, stars and percentage signs.
These guys provide good information; this is who I got the unit from. Please read for clarification concerning my standpoint on extracurricular communication with potential customers. I divide this into two categories, the first of which I will respond to openly and charitably, exchanging carefully any number of necessary friendly correspondence.
The second category will be regarded as such, but not treated the same way in which they would treat me, that is; impatient, rude, spiteful, and manipulative. Also, and this pertains particularly to the supposedly internet savvy crowd; DO YOUR OWN RESEARCH ON TRIVIAL MATTERS! I cant tell you how many times people have asked about a detail which is already stated in the more than obvious product description I provide, or else petitioned me to do it for them, when the answer is a couple clicks away to anyone with an internet connection. In closing, if after reading this long-winded notice, you are too lax to discern in which category you fit, then it is probably the second; otherwise, to the good people out there, pose any question you want, and feel free to peruse my few wares with certain knowledge that you are appreciated as a customer, and have my full sympathy when you might deal with these other people yourself. Unless otherwise indicated, I do not accept offers or bartering. Packages can arrive well ahead of schedule, most often on schedule, and sometimes there are unavoidable delays. The item "PVS-7 Gen 3 Autogated/Pinnacle Night Vision Goggles" is in sale since Tuesday, March 31, 2020. This item is in the category "Sporting Goods\Hunting\Scopes, Optics & Lasers\Night Vision Optics". The seller is "hel734" and is located in Healdsburg, California. This item can be shipped to United States.
Model: PVS-7
Modified Item: No
Country/Region of Manufacture: United States
Custom Bundle: No
Built-in IR: With Built-in IR
Type: Goggles
Generation: Generation 3
Brand: Unbranded