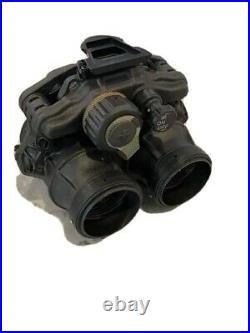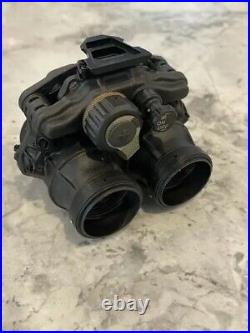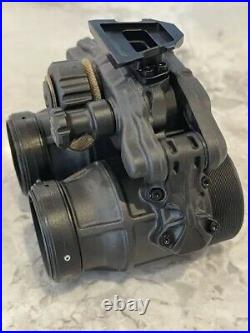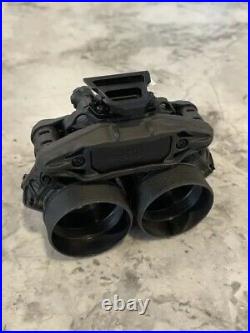 Act in Black DTNVS Housing Kit. DOES NOT COME WITH TUBES. The DTNVS (Dual Tube Night Vision System) is a Product Improved version of the DTNVG (Dual Tube Night Vision Goggle) first introduced in 2016, integrating four years of service with military, law enforcement, and civilian end-users worldwide, resulting a lighter weight, yet more durable housing with numerous improvements and design enhancements that make the DTNVS easier to support and maintain. The DTNVS is a lightweight, articulating goggle design, and is built on proven technology and enhanced for greater reliability compared to previous generations of Night Vision Binoculars.
At 17.9 ounces the DTNVS is one of the lightest weight, highest performing Binocular Night Vision Devices (BNVD) currently available on the market. Despite the light weight, the DTNVS does not sacrifice durability or ruggedness, and exceeds MIL-STD-810G and USSOCOM test protocols for drop and impact by a factor of two.
The DTNVS is also rated for water immersion at 66 ft. (20m) for two (2) hours. The independently pivoting monocular pod design allows users to rotate the individual monocular pods away from the center of the housing and out of the wearers field of view, allowing clear, unobstructed natural vision through one or both eyes. This can be a huge benefit in enclosed spaces like vehicles or in close quarters, where stowing the goggles could create unnecessary snag hazards or otherwise be an impediment to the end-user. When the DTNVS is stowed, the articulating pods can also be folded back to bring the goggles center of gravity closer to the wearers head, improving balance and comfort while worn, while reducing the profile of the wearer.
Moreover, when rotated, the DTNVS features automatic individual channel cut-offs, which cuts power to the image intensifier tube, shutting it off when rotated beyond approximately 60 degrees from the center housing (well beyond realistic IPD adjustments), both to protect the image intensifier tube and prevent backsplash when the monocular pods are rotated away from the wearers field of view. The DTNVS is a full-featured goggle with adjustable objective and diopter focus, using standard PVS-14 style optical assemblies, meaning they are compatible with common accessories for the PVS-14, as well as an onboard IR LED with a built-in ON/OFF indicator that alerts the wearer to whether the onboard IR is switched on inside the tube, as well as a low battery indicator light. Based on extensive end-user feedback from U.
And international military, SOF, and law enforcement end-users, the DTNVS utilizes MX-10160 format image intensifiers with Automatic Brightness Control (ABC) only. While some users do prefer manual gain systems and expansive feature lists, the overwhelming feedback from end-users has been that it is unnecessary in a binocular system, and simply ends up being an added complexity that could potentially cause problems if tinkered with or mis-adjusted while on mission. Moreover, MX-10160 ANVIS/aviation format image intensifier tubes are often held to stricter standards for image shift and alignment, as they are intended specifically for binocular systems, making them easier to assemble, maintain, and properly collimate. Similarly, the DTNVS is powered by a single CR123 battery, which can provide over 25 hours of battery life on a single lithium cell. While there are benefits to AA powered binocular systems, power consumption and battery efficiency are not one of them, hence why most AA powered BNVDs include a provision for an external power supply, often requiring expensive interface cables and battery packs, and while conversion parts will be available for the DTNVS to support external power supplies, the basic configuration of the DTNVS does not include an external power option, reducing weight, complexity, and another potential ingress point for moisture and foreign debris.
The DTNVS Standard does not come with Interpupillary Distance (IPD) Stops, as most users do not find them to be necessary. However, some users do find the IPD Stops to be a useful addition to ensure that the monocular pods return to the same position when rotated back down. Rather than choosing one or the other, ACTinBlack has designed an optional IPD Stop Adapter, which gives individual users the choice as to whether to use the IPD Stops or not. The IPD Stop Adapter assembly is an optional, retrofittable part, and does not need to be installed during assembly, and can be added to the DTNVS Standard at a later time. The item "Act in Black DTNVS Night Vision Goggle Housing Kit" is in sale since Saturday, December 4, 2021.
This item is in the category "Sporting Goods\Hunting\Scopes, Optics & Lasers\Night Vision". The seller is "koshersurplus" and is located in Houston, Texas.
This item can be shipped to United States.
Brand: Act In Black
Color: Black